Vibrance Physical Therapy and Wellness is a clinic that recognizes the diverse elements that contribute to health and wellbeing of individuals. The best healthcare is patient-centered and individualized to evaluate and treat the assorted factors implicated in drawing the body away from health and homeostasis. Whether these factors are a result of an automobile accident, sports injury, or chronic disease, we apply a holistic approach to rehabilitation that is formulated to maximize the body's ability to heal itself.
Our approaches are research-based and results-driven, utilizing proven and innovative techniques to make health attainable for all of our patients.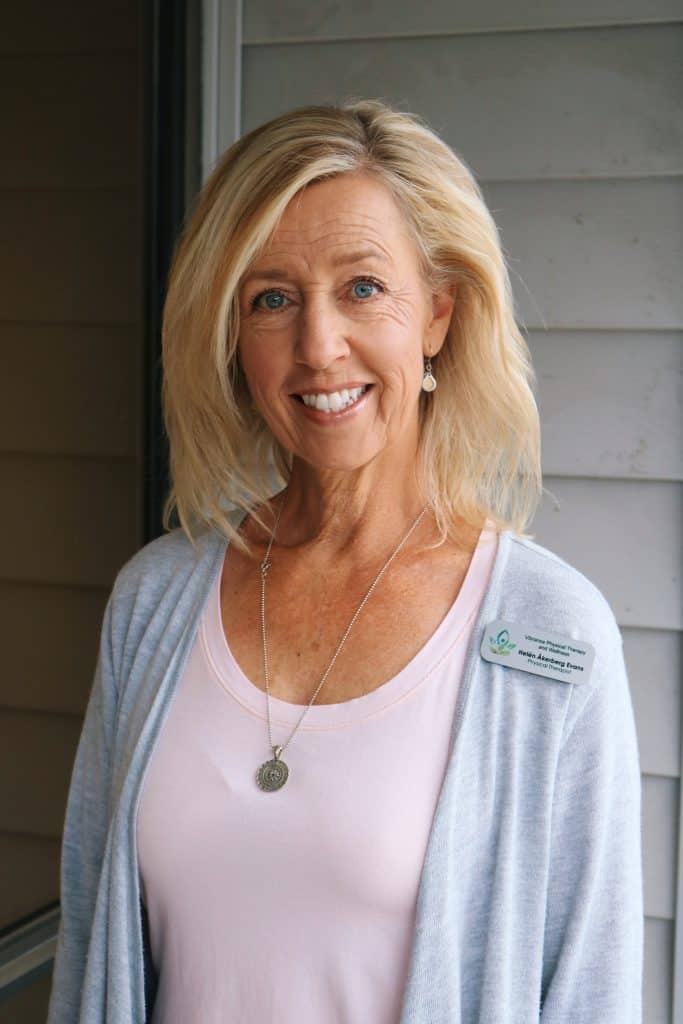 After 28 years of working as a physical therapist and a lifetime spent nurturing a passion for healthcare, Helén expands her practice this year by opening Vibrance Physical Therapy and Wellness. As founder and owner of the clinic, Helén offers proven and innovative therapeutic techniques coupled with functional nutritional counseling to restore optimal health and wellbeing to patients of the Salem area and beyond.
Helén began her career in healthcare after obtaining a nursing degree in 1985 from Bohusläns Vårdhögskola in Uddevalla, Sweden. Intrigued by the body's amazing ability to heal itself with proper guidance she went on to become a physical therapist, graduating from the University of Gothenburg in 1988. Helén relocated to Portland the following year and worked at Oregon Health and Sciences University Hospital in neurosurgery, outpatient orthopedics, and sports medicine before moving to Salem, where she has spent the last 24 years working with outpatient orthopedics and TMD patients. In 1999, Helén started specialization in the field of TMJ and has since become the TMD specialist of the area. Helén has been invited to lecture on TMJ and TMD for several annual classes of George Fox University Physical Therapy Program students. Her continuing education has also included studies in orthopedics, sports medicine, spinal stabilization, medical exercise therapy, McKenzie therapy, weight training, posture correction, yoga, and post-op treatment. After decades of observing the accelerated healing power that a balanced diet and lifestyle lends to patients, Helén began the rigorous training through the Integrative and Functional Nutrition Academy and received her first IFNA certification early in 2018. She continues to be invited by collegiate athletics programs to speak on the value of applying nutrition strategies to optimize athletic performance.
When Helén is not at the clinic or reading the latest in healthcare news she enjoys spending time with her husband and two grown children. After more than a decade of coaching youth soccer and watching the beautiful game played at all levels, Helén still devotes many weekends each fall watching her son play in collegiate soccer games across the region. She also makes time for outdoor adventures – hiking, mountain biking, snow skiing, camping, and waterskiing, as well as yoga, cooking, and partaking in Oregon's fine wine country.
While finishing up his premedical studies and playing Division III Men's Soccer at Pacific University, Connor also works as a physical therapy aide at our clinic. In addition to pursuing an undergraduate degree in Biology, Connor has already finished requirements for a minor in Outdoor Leadership for which he has summited peaks, planned extended group backpacking trips, completed rock climbing instructor coursework, and obtained rigorous certification as a Wilderness First Responder. He has an innate affinity for teaching others and currently volunteers his time both coaching youth soccer and teaching rock climbing. Connor's unique combination of experiences in elite-level team sports as well as outdoor feats of endurance and athleticism make him a natural addition our staff here at Vibrance Physical Therapy and Wellness.
In his free time Connor enjoys making music, sipping hot coffee in the sun while planning his next adventure, and making time in between to spend with friends and family.
Growing up in Oregon, Faerynn developed a passion for holistic health early in life. While spending countless childhood hours enjoying the outdoors she also learned about nutritional food preparation with her parents. These activities instilled a curiosity about human biology, health, and exercise that helped shape her decision to focus her undergraduate studies on a major in Exercise Science and a minor in Human Biology at Western Oregon University, where she is also a distance runner for the university's DII Cross Country/Track and Field team. Faerynn will graduate with her Bachelor of Science degree in the spring of 2020 with plans to pursue a Doctorate of Physical Therapy degree in the following years. In pursuit of this education Faerynn looks forward to guiding individuals in restoring their best functionality, and contributing to the fusion of research-driven patient care, relational patient education, and commitment to holistic well-being within the field of physical therapy. It is this drive that shapes Faerynn's daily contributions to Vibrance Physical Therapy and Wellness!
When she has a spare moment or two, Faerynn loves to listen to music and perform on the piano. She also enjoys time reading, cooking, engaging in outdoor adventures, and spending quality time with her family and friends.
Born and raised in Oregon, Brogan grew up with a natural affection for outdoor activities. Even early on, his interests in hiking, camping, climbing, running, and backpacking fostered an awe and interest in the human body and he was pulled to the field of medicine by his passion for helping others. Brogan is currently pursuing an undergraduate degree at Corban University, double majoring in Biology and Kinesiology where he is continually fascinated by the complexity of movement, and has plans to subsequently attend a program for a Doctorate of Physical Therapy! To Vibrance Physical Therapy and Wellness, Brogan brings his sense of adventure and his passion for exercise science in a combination that enlivens our clinic.
Beyond spending time in the great outdoors, Brogan also enjoys reading, cooking, and art in his free time while looking forward to planning newest adventures in mountaineering!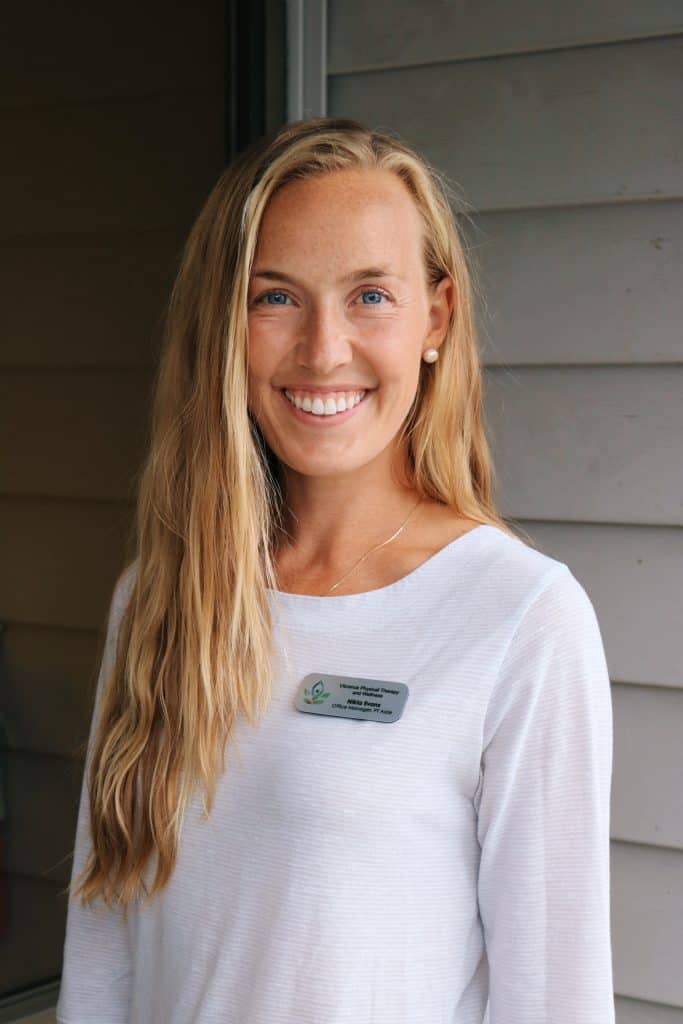 While currently also attending OHSU School of Medicine, Nikia continues her involvement at the clinic as our coordinator of strength and conditioning. Prior to beginning medical school, Nikia spent a year in Germany playing professional soccer, and also was a part of NCAA Division I Women's Soccer at Portland State University prior to that, graduating in 2017 with a Bachelor of Science in Biology and a minor in Chemistry. With an extensive personal background in the world of elite performance training and several years of experience coaching both soccer and basketball, Nikia brings knowledge of practical applications of strength and conditioning principles as well as a natural teaching ability to Vibrance Physical Therapy and Wellness. In addition to her Certified Strength and Conditioning Specialist accreditation through the National Strength and Conditioning Association, Nikia is in the process of also completing coursework to become a Bio Force Certified Conditioning Coach.
Nikia spends much of her time outside the clinic coaching soccer and adventuring with her pup. Her interests include a slough of outdoor activities as well as making music with her brother. Since returning to the States, Nikia especially enjoys family time and getting together with friends whenever she can.